Whether you're interested in purchasing a home that has cloth wiring, or you think that your current home may have cloth wiring, you may have some questions. What is cloth wiring? Is it really dangerous? Does it always need to be replaced?
In this guide to cloth wiring, we'll discuss everything you need to know. From the basics about how it works and why it was used, to recognizing if your home uses cloth wiring, and details about how it should be removed by a professional, we'll touch on everything you need to know. Read on, and get all the details in this comprehensive guide.
What Is Cloth Wiring? 
As the name suggests, cloth wiring is a type of electrical wiring that was used before thermoplastic-coated wiring became commonplace. It was usually used in homes that were built before 1960, and it was very common because it was inexpensive, and this rubberized-cloth was the standard method of insulating wires before plastics became widespread and affordable.
Usually, buildings that use cloth wiring were built in the first half of the 20th century. If you own a home that was built in this time, there is a chance that your wiring is – at least partially – covered in cloth insulation.
In addition, cloth wiring is also commonly associated with another common electrical issue – knob-and-tube wiring. At the time that cloth wiring was used, knob-and-tube wiring was the standard method of running wires through homes. It used ceramic knobs and tubes to run electrical wires through walls. 
While not all knob-and-tube installations are dangerous, they are prone to breakdown – and they lack the safety features of modern wiring installations, like grounding. They also do not typically provide enough power for modern needs – which can result in a dangerous over-stressing of the electrical system, which could lead to a fire. 
To boil it down, cloth wiring is an outdated type of electrical wiring which uses cloth instead of plastic to insulate and protect electrical conductors. It's also often associated with knob-and-tube wiring, which is also outdated and potentially dangerous. 
Why is cloth wiring so dangerous? Let's explore this topic in the next section.
Why Is Cloth Wiring So Dangerous?
There are a few reasons that cloth wiring is dangerous, and usually must be replaced if it's found in a home. 
Brittleness leads to wear & tear

– One of the problems with cloth insulation is that, over time, it has a tendency to become brittle. It may begin to flake away, exposing the underlying electrical wire. As this abrasion progresses, the likelihood of an electrical arc (electricity that "jumps" from one wire to another) increases. Arcing is a serious fire hazard.
Insect/rodent damage

– Compared to other methods of insulating wires, cloth wiring is much more susceptible to insect and rodent damage. The insulator may be chewed through quite easily, particularly if it's brittle. Again, this leads to a higher risk of exposed wires, and electrical arcing.
Some cloth wiring uses asbestos

– For decades, asbestos was a preferred material for insulation. It is cheap and extremely effective at insulating a wide variety of different materials from heat. Of course, we now know that asbestos is an extremely dangerous carcinogen to humans.

Some old types of cloth-covered wiring use copper that is covered with a rayon or cotton material, and then insulated with asbestos paper, or rubberized insulation. As the cloth becomes brittle over time, the asbestos may break down and become airborne, which is extremely hazardous.
May not contain heat properly

– Cloth sheathed cable is simply not that effective at insulating wires compared to modern plastic insulators. This, combined with the fact that modern homes require much more power compared to homes built at the turn of the 20th century, means that excessive heat can build up in the wires and in the surrounding areas, creating a fire hazard.
Likely ungrounded, lacks modern features

– If your home uses cloth wiring, it's probably lacking in many modern safety features. It may not have three-pronged or GFCI outlets, and may lack grounding. Grounding sends excess electrical current into the ground, rather than back into the electrical system – reducing the risk of arcing and fire. In addition, your home may have a fuse box rather than a circuit breaker, which could create a fire hazard if it's overloaded.
For these reasons, cloth wiring can be a serious liability and be dangerous to your home. It may even affect your ability to insure your home – but we'll discuss that further in a later section of this guide.
How Do I Know If I Have Cloth Wiring? What To Look For
If you have knob-and-tube wiring, there is a very good chance that you have cloth wiring. Even if your wiring looks rubberized, it's likely composed of a rubber outside with insulating cloth on the inside. 

If you're still not sure, though, you may be able to inspect your wires to look for brand names and names of common cloth wiring which was used in American homes. Here is a brief list of some of the most common brands of cloth wiring:
If you are looking for more information about how to recognize these types of wire, this guide from InspectApedia is a valuable resource. 
However, if you're not confident that you will be able to recognize cloth wiring in your home on your own, we recommend that you hire a professional. A home inspector can usually recognize cloth wiring quite easily, or you can choose to hire an electrician. An electrician will be able to provide a more detailed overview of your electrical systems, in most cases.
How Cloth Wiring Affects Home Insurance
Cloth wiring can affect home insurance in a few different ways, especially in states like Florida, which has a "4-Point inspection" requirement that older homes must pass before they can be insured. The new Florida Building Code (FBC), which is based on the International Building Code (IBC), was adopted by all counties in Florida in 2002, and is much more restrictive than the Standard Building Code (SBC) that was used previously. The National Electric Code (NEC/NFPA 70), a part of the National Fire Codes established and published by the National Fire Protection Association (NFPA), is also adopted into the Florida Building Code (FBC).
High insurance costs

– Some forms of cloth wiring may be considered to be a fire hazard by major insurance companies. If you have cloth wiring in your home – and/or knob-and-tube-wiring – this could lead to much higher insurance premiums compared to modern wiring systems. Over time, the cost of these insurance premiums can easily outweigh the cost of rewiring your home with modern wiring, outlets, and circuit breakers.
Refusal to insure

– This depends on the home insurance company you're working with, but some will completely refuse to insure a home that has cloth wiring, because of the higher risk of electrical faults. You may need to replace the cloth wiring and/or knob-and-tube wiring before you can be insured. 
Obviously, neither of these scenarios is ideal. That's one of the many reasons that you need a home inspection when you're planning on purchasing a home that was built before the 1960s. 
If you purchase a home that has cloth or knob-and-tube wiring without realizing it, you may have to pay quite a bit to replace it. But if you catch this issue before closing with a home inspection, you can back out of the sale – or require a lower price for the sale to cover the costs of replacing the cloth wiring. 
What Should I Do If I Find Cloth Wiring In My Home?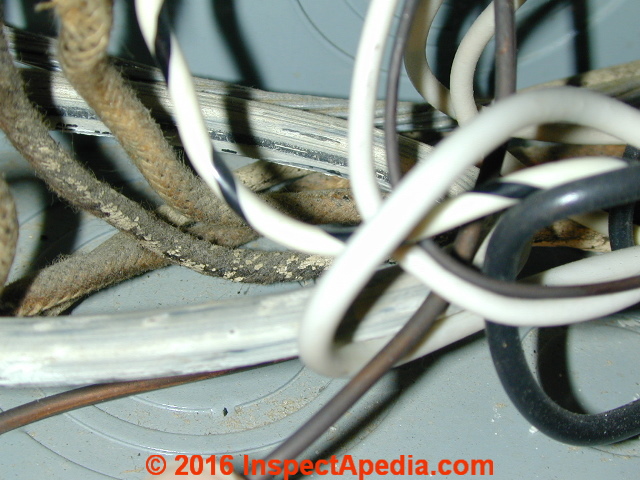 Whether you've just purchased a home and you think it has cloth wiring, or you're living in a home that currently has cloth wiring and just now have realized it, there are a few different steps you can take to protect yourself.
Hire an electrician to examine your system

– First and foremost, you will want to hire an electrician to examine your home's wiring. You need to confirm that you have cloth wiring, and that it's dangerous. You don't want to end up spending thousands of dollars to correct a nonexistent problem. A comprehensive inspection from a qualified, trustworthy local electrician will reveal any and all potential problems with your power system.
Get your wiring tested for asbestos

– As we mentioned earlier in this article, asbestos paper was used for insulation in some cloth wiring products made in the early 20th century. If your wiring has asbestos, you will need to hire a specialized contractor to remove it, to ensure that the material is removed safely, without releasing toxic asbestos fibers into the air. If your electrician believes that your wires contain asbestos, hire a testing company to test the wires so that you can take the proper safety precautions during the removal process.
Replace the cloth wiring

– In the rare case that you have cloth wiring but do not have a knob-and-tube wiring system, you may be able to simply replace the cloth wiring in your home with modern, plastic-coated wiring. If your electrician believes that your home's power system is in good overall shape, this is a more affordable option, compared to replacing the entire system.





In some cases, this may also be an option if your knob-and-tube system is in good condition. Knob-and-tube is not inherently dangerous, but it's often modified in unsafe ways, and it tends to fail over time. However, if your wiring is in good shape and your electrician thinks it meets your home's needs, you may not need to replace it. This is rare, though, and depends on whether your insurer is willing to insure a home with knob-and-tube wiring. Many may still refuse.
Replace the cloth wiring and knob-and-tube system

– This is usually the best solution for cloth wiring. As we've made clear in this guide, both cloth insulation and knob-and-tube wiring are dangerous. In most cases, the safest way to address this issue – to get insured by a home insurance company – is to completely replace your electrical systems.





You should replace your wiring, update your fuse box to a circuit breaker, add GFCI outlets, and take other such actions to ensure that your home's new wiring meets all local building codes and regulations.





This will not be cheap. The cost of replacing knob-and-tube wiring

can be up to $5,000

, and additional upgrades can easily add to the cost of your project. However, replacing cloth wiring and knob-and-tube systems is the best way to ensure maximum electrical performance in your home, prevent fires, and get better rates on insurance coverage.
It may be costly. But replacing cloth wiring is the best way to protect your home, get proper insurance coverage, and ensure that you avoid potential fire hazards and dangers to your family and property. 
Can I Replace Cloth Wiring On My Own? 
Unless you're a professional electrician, we do not recommend it. Not only is DIY electrical work unsafe for those who are not experienced, but you may also end up making mistakes and errors that cause your home to violate local building codes. 
The entire point of replacing your cloth wiring is to make your home safer and ensure you meet local codes and insurance requirements. Attempting to take on a dangerous DIY project like rewiring your own home defeats the purpose of replacing your wiring. Hire a professional. It's worth it.
Know What To Expect If You Find Cloth Wiring! 
We hope that this guide has been helpful. Hopefully, you've learned everything you need to know about cloth wiring, what it is, and the risks of leaving it in place. Whether you're a current homeowner or looking for a new home, this knowledge will help you understand what to do about cloth wiring if you discover it in your home, or it's uncovered in a home that you intended to purchase. 
Call or email us if you have any questions or use the online scheduler to set up a home inspection.
Proudly Providing Home Inspection Services
Providing Home Inspection Services to ALL of Polk, Pasco, Hillsborough, Osceola & Orange Counties, including: Lakeland, Tampa, Orlando, Winter Haven, Bartow, Auburndale, Mulberry, Haines City, Davenport, Celebration, Kissimmee, Hunters Creek, Plant City, Brandon, Valrico, Seffner, Riverview, Lithia, FishHawk, Zephyrhills, Dade City, Wesley Chapel, Land O' Lakes, Lutz & Trinity.