Breaking Down the Anatomy of a Window For Florida Homeowners

Living in Florida, knowing your window anatomy is actually pretty important. 
Between hurricanes, bugs, frequent rain, and hot summer days, your windows do a lot of work to keep you comfortable and safe. 
When we do home inspections, we always make a note of window discrepancies: is the sash slipping? Is the flashing tarnished? Is it time to replace your battered glazing with proper hurricane windows?
If you want to inspect your own windows, let us help by breaking down the various parts of a window. 
RELATED: 5 WAYS TO REDUCE YOUR ELECTRIC BILL IN FLORIDA
A Simple Break Down of Window Anatomy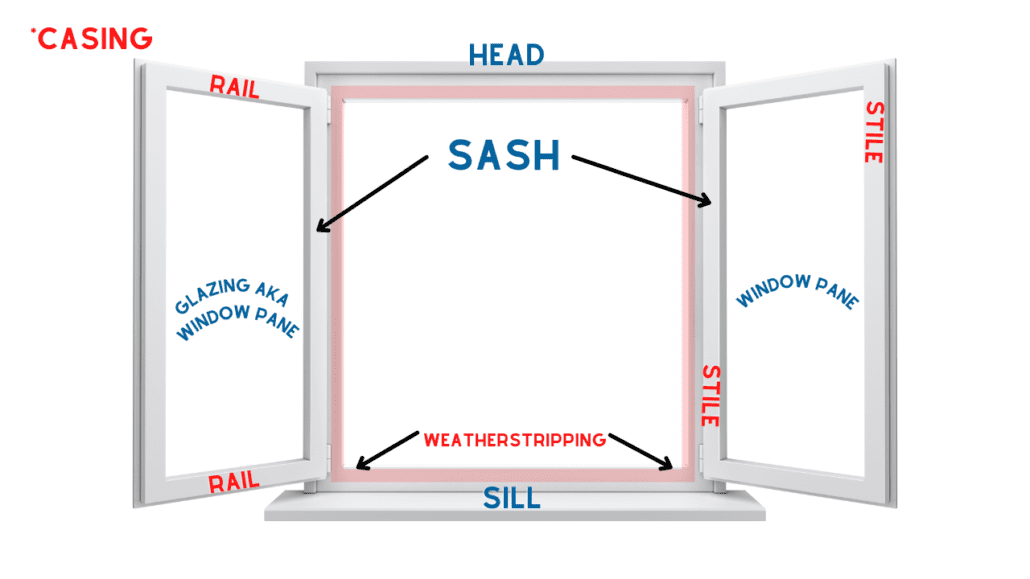 The truth is, without knowing window anatomy, you won't know if all you need is a simple fix— or a complete window replacement. 
You just have some new terminology to learn! Plus, we're sure your neighbors and friends will be super impressed when you explain the history behind window mullions during hurricane season. 
RELATED: HOW YOU CAN SAVE MONEY ON HOME INSURANCE WITH A WIND MITIGATION INSPECTION
The Basics
Speaking of mullions, let's start with those.
Mullions 
Mullions are an ancient bit of architecture that isn't technically necessary nowadays. Because we have the technology to support large windows (even floor-to-ceiling windows), these structural beams aren't a standard unit in modern homes.
Window mullions are the vertical bases that hold a single window in its place. Or it's the panel that separates individual windows that are side-by-side (see picture below).
It wasn't until the Victorian Era that society found a way to build large, sustainable windows without the support of window mullions. 
Some people use this term interchangeably with muntins. However, there is a difference between window mullions and muntins.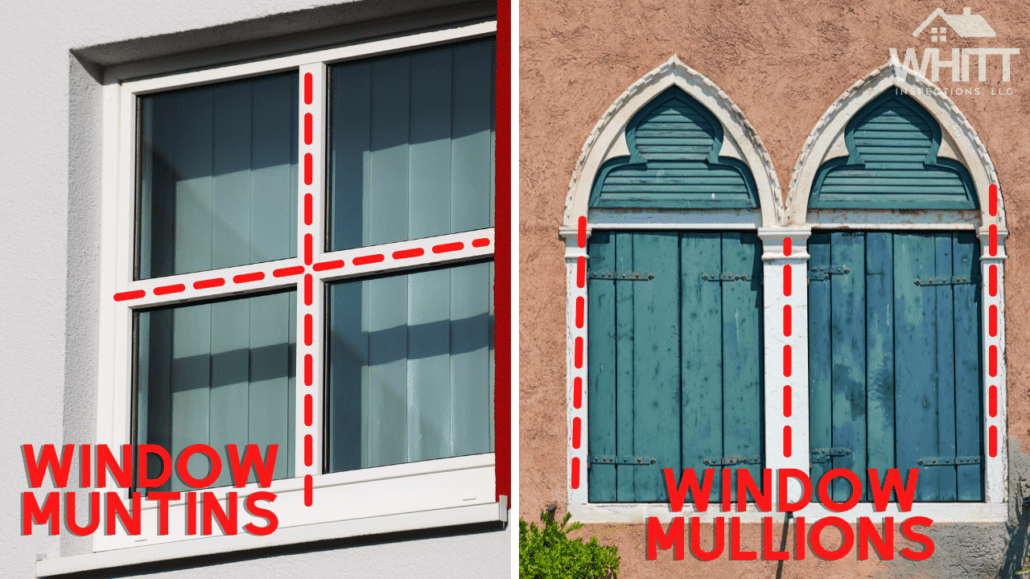 Muntins
Muntins are the vertical and horizontal parts of a typical depiction of a window.
Think about how you would draw a window: a square with two lines, right? Those lines are the muntins. They form the grid that used to hold window panes together.
Key words: used to.
Like mullions, window muntins aren't necessary for modern architecture. These bars would hold smaller pieces of glass together to make a large window before we could construct large, stable pieces of glass. 
So fun fact: The window mullions and muntins that you see in post-Victorian homes are purely decorative. 
Glazing / Lights / Pane
We refer to each piece of glass held together by muntins as a window light or "fixed light." A fixed light is a non-operational window (meaning it can't open). 
When referring to window anatomy, glazing is technically the glass itself (also commonly referred to as the window "pane"). You can choose from various types of glazing, from single to triple thickness. This becomes important when you're considering hurricane windows. According to glass.com,
"Hurricane resistant glazing is meant to help protect the interior of a building from the high winds, strong rain and projectiles… wind and rain can penetrate the building and cause structural damage to the building."
Sash 
The sash is the part of the window that can open and close. The supporting structures are the stile (the vertical frame bars) and the rails (the horizontal frame bars).
Be sure to analyze the weatherstripping surrounding your sash. Damaged weatherstripping can be the reason rainwater or pests slip into your home ,or why your home seems hotter than usual.
RELATED: FLORIDA HOME MAINTENANCE CHECKLIST
Anatomy of the Window Frame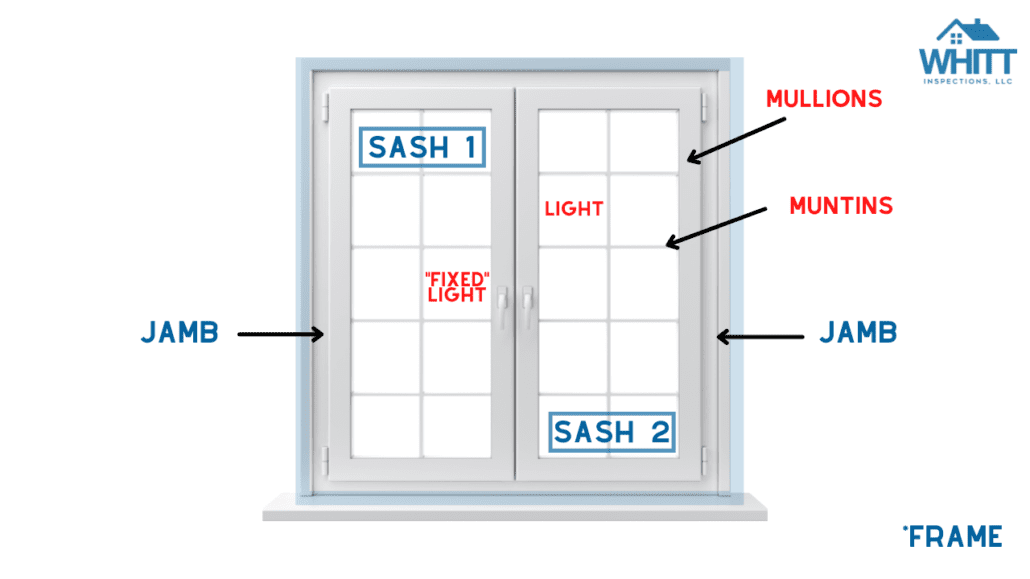 Now that you understand the structural façade of your window choices, let's get into the best part: the framing!
This part is (obviously) the compound that secures your window into the framing of your house. The window frame specifics are what you need to look out for if you have a leak or you're looking for heavy-duty hurricane windows. 
Head 
This is the topmost part of your window frame. The horizontal beam is an essential part of the window anatomy because it helps lock the window panes into place. 
The head, along with the rest of the frame, will be made up of either: wood, vinyl, aluminum, fiberglass, etc. The sturdier the material, the better suited it is to withstand Florida hurricanes. 
Sill 
We all know what a window sill is, so we won't go into too much detail. A window sill expands from the window into the interior of your home, like a shelf. It can also do this on the exterior of your home, but that is called a "stool."
Underneath your window sill, you may notice what looks to be an extension of the window frame itself. This is called the window "apron," and it's only for decorative purposes. 
Jambs
Jambs are only the vertical beams on either side of your window's entire frame. The horizontal beams are the head and the sill. 
Casing
And the casing is the decorative molding within your window frame (beneath the head and above the sill). It historically keeps the sash, jambs, and other hardware locked tight into place, although it's more cosmetic today.
RELATED: I HAVE PLASTER WALLS IN MY HOUSE — NOW WHAT? A GUIDE ON HOW TO HANDLE PLASTER WALLS
Hardware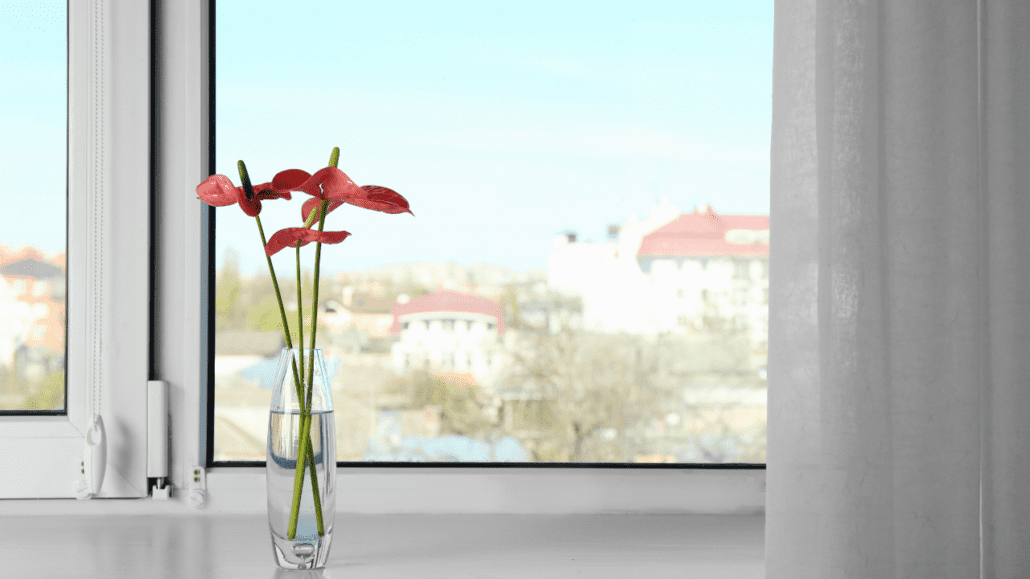 And last but not least, let's talk about hardware. These are the smaller "cells" (if you will)  that make up the rest of your window anatomy. 
Many of these parts are easily replaceable. Because this is probably the aspect of a window you're most familiar with, let's just breeze through these:
Check Rail

: For double-hung windows (where you can raise the bottom sash), the check rail is the beam in between the top and bottom panes. 

Latch: 

Also called a sash lock. Just like doors, there are plenty of window locking mechanisms to choose from. 

Lift:

 The hardware that enables double-hung windows to 

lift 

open and close. 

Arm:

This is what makes it possible for your windows to 

swing

open or close. Known as either a scissor arm or extension arm.

Flashing:

 Typically made of aluminum, this material is water-resistant and helps fill in 

any 

gaps around your window's frame. 

Caulking

: Usually silicone, latex or an acrylic urethane that borders your window frame to keep exterior elements from seeping through the cracks. Flexibility is key here.
RELATED: WHAT IS A WIND MITIGATION INSPECTION?
Conclusion
Now that you understand the anatomy of a window, you'll know exactly what to ask for when you shop for new ones! Do you want the traditional-style windows with mullions in the windowpane? Or do you want to go for the more modern, double-hung windows with easily replaceable hardware?
UP NEXT: HOW TO FIND A STUD IN A PLASTER WALL
https://www.whittinspections.com/wp-content/uploads/sites/51/2021/09/1-1.png
720
1280
Stephen
https://d3bfc4j9p6ef23.cloudfront.net/wp-content/uploads/sites/51/2022/09/07221907/white_logo_transparent_background1-1030x698-1.png
Stephen
2021-09-08 21:40:43
2021-09-24 18:18:45
Breaking Down the Anatomy of a Window For Florida Homeowners